So far the use of VAR has showed progress.
Arguably a small amount of progress, but some. It has either proven to be effective, or proven to need work.
Not until now has it actually had a detrimental effect on a game. Not until now has it jeopardised the referee's control in a game, rather than help it. Not until now, has it negated progress so far, that even other referees are sharing in the consensus that it was a joke.
I am, of course, referring to the Paraguian referee who took control – if you can call it that – of Iran Vs Portugal.
Earlier in the day, Uruguay brought Russia down to earth by putting three past them, and Saudi Araba came back to win 2-1 against Egypt, prolonging Egypt's record of never winning a game at a World Cup tournament. But it wasn't until this evening that we saw a group with real stakes, and with Spain and Portugal still having work to do.
Iran had to beat Portugal to go through. If they didn't, and Portugal and Spain ended up with the same result, goal difference would likely determine who came first in the group. Only their disciplinary record separated them at the start of the game.
We saw Spain go behind twice and come back to equalise each time – the last goal involving VAR to restore what had previously been disallowed.
But it was the 1-1 draw between Iran and Portugal that is the real talking point.
From my experience as a referee, I have ended up acquiring a number of Facebook friends and Twitter followers who are also referees. Generally, these referees are very good at pointing out how little the commentators know, or in being open minded, or in giving honest thoughts on how the referees are normally correct.
Never before have I seen so many Tweets and statuses pointing out how poor a referee was, and how much of a joke their decisions and match control became.
The most disgraceful aspect for me is the impact this has on the grassroots game. When a referee lets players gather around them and shove into him, producing just one feeble yellow card as a result, after relentless coercing to go away – this affects those at the bottom. Out on those parks on a Saturday afternoon or Sunday morning, players will find this acceptable, and will expect similar reactions from referees out on their own, struggling against the situation created for them by the influence of referees supposedly good enough to officiate in a World Cup – a World Cup that, if you remember, did not have any English officials invited to take part.
Yes, the Iranian players were disgusting in their behaviour, but in the passion of the game you expect the referee to handle it better.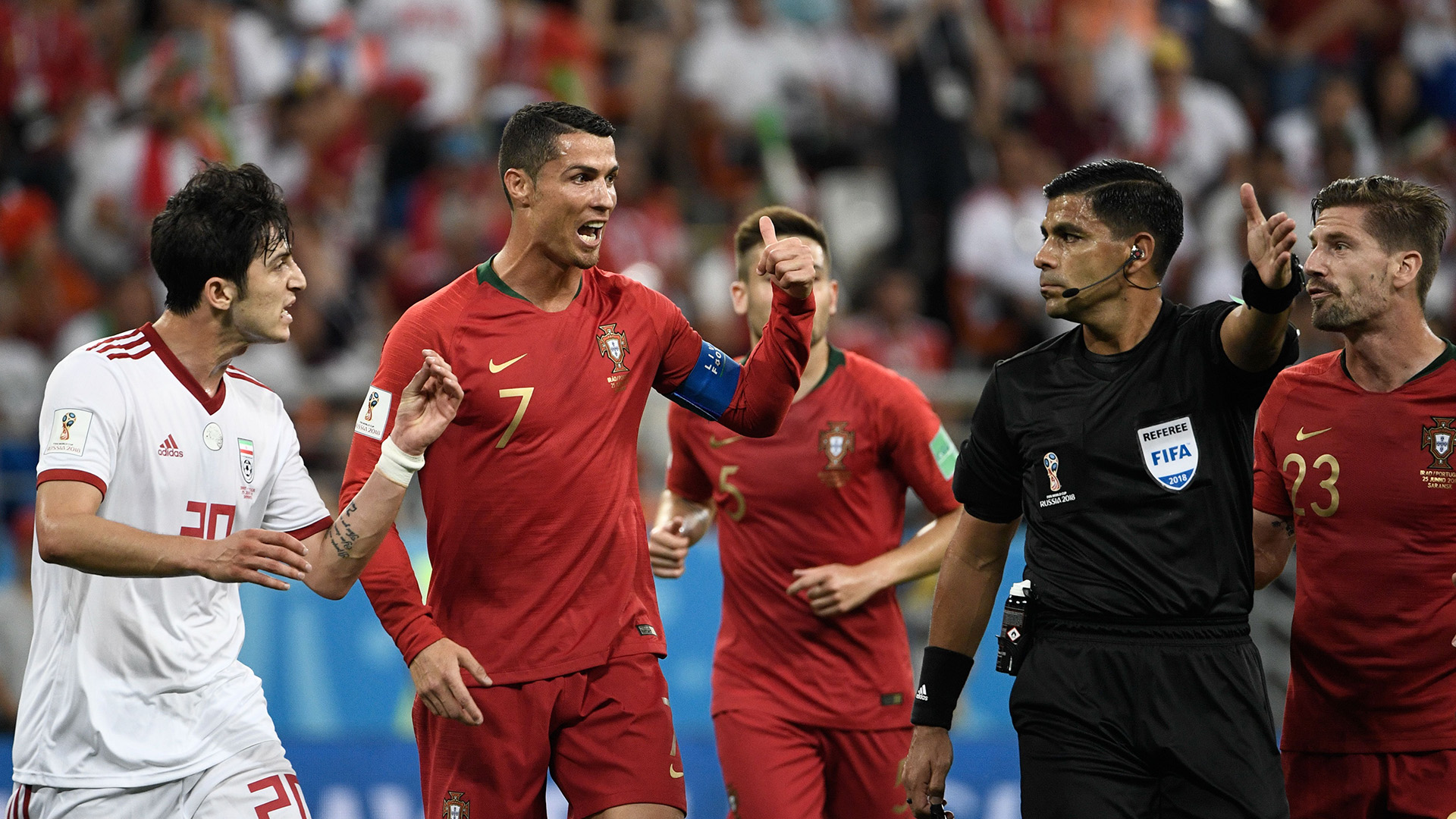 Here is, in a quick rundown, the major points, the outcomes, and what I would have liked to have seen.
The Ronaldo penalty shout
For me, this was a clear penalty. Ronaldo often initiates contact and forces decisions, and this may have impacted the referee's initial instinct to wave it away. After too long, he then went to VAR.
Giving the penalty here was the correct decision.
My problem is what followed from the Iranian players. Not only did they get in the referee's face, surround him, refuse to go away – two of them shoved into him. They knocked him back at one point.
And, finally, one measly yellow card comes out. What happens after the yellow? They carry on.
That's a second yellow straight away. The Iranian's just been booked for it. I know we aren't used to seeing referees take such actions, but referees at the top level need to have the guts to do it, or people will think this is acceptable.
The better decision in itself would have been a red card. For foul and abusive language (I'd assume), or for the shove into the referee.
Iran penalty shout that followed a few minutes later
Not a chance. No VAR looked at, totally correct decision made to deny it.
Possible Ronaldo red card
For me, again, the yellow was the correct decision. What I don't understand is why the referee stood listening to the VAR room for ages before he actually went and looked. If there's an issue, why isn't he looking straight away?
It needed something, but it wasn't a red, and yellow was good – but what about the reaction from the Iranian players afterwards?
Another yellow for dissent.
Did that work a moment ago?
No! Because they are still doing it!
The referee lets them, and it is not only a disgrace that the Iranian players behaved this way, it is a disgrace that the referee did not challenge this further.
Iran penalty for handball
Another penalty that went to the VAR. For me, this was such a wrong decision that I was godsmacked for quite a while after it was gone.
The arm was not in an unnatural position and, you could see when slowed down in VAR, the Portugese defender's arm was moving away from the ball, not toward it. Without VAR, I'd have understood the mistake in real time – but to review this and determine it to be a penalty was beyond ridiculous.
And it made VAR into a joke. The fact that it was given after VAR review was just preposterous. VAR was introduced to remove obvious errors like this penalty being given, and here it was used to decide on the blatantly incorrect, awful decision.
Stoppage time
Six minutes stoppage time announced. In that time, two minutes were used for a VAR review, more for the penalty to be taken, then more for a substitution – and only 1 ½ minutes were added to the stoppage time given.
I think the referee just wanted the game to be over. I think he hadn't had a good game, and he wanted to get in that changing room and forget about it. And, after that showing, you can't be surprised.
This is not progress. This is a referee not up to the standard to officiate in a World Cup.
And this from a World Cup who wouldn't bring English referees.