The oddest thing happened this evening.
I was forced to go out.
I had a meal with friends, and these friends – just wait, you are not going to conceive of this – these friends do not like football.
I mean, the football was on in the pub whilst I was eating, but still. It was bizarre having a conversation about things that weren't football related.
No, it was beyond bizarre – it was unsettling.
At one point we had a disagreement, but there was no VAR check to see who was right.
Someone brushed into their shoulder and they didn't throw themselves to the floor and roll around in theatrical fits of pain.
I couldn't take it! At one point I ended up getting my long lens out and taking a photo of the menu from a distance to see if I could get a sneak peak what was on it before anyone else.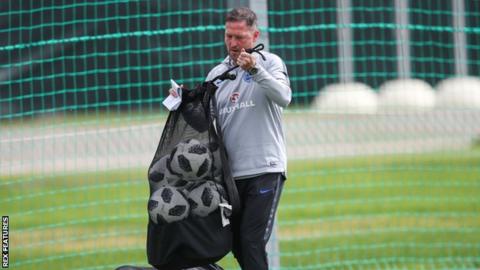 In case you don't know, as you've been on another planet (or are one of my crazy friends), a long lens camera caught the supposed teamsheet for England Vs Panama in coach Steve Holland's hand during an England training session.
This whole team sheet debacle has prompted the wrong debate for me. There's been questions over whether the media should have published it, whether it was right or wrong, and everyone seems to be divided on the opinion. A lot of people say it is the duty of the media to report on such things, others say that it lacks integrity.
I say that the person who sold the picture couldn't care less.
The main element of this debate seems to be missing: money.
This picture sold papers. This picture got clicks on the internet. This picture got us talking.
The journalist who took it made a killing from it, as did whichever paper printed it, and I imagine that at no point when they were counting up their paycheck did they care about whether integrity was involved or not.
Now I've said my peace, we're onto the games. Belgium played Tunisia, and for me, this game would tell us a lot about Belgium and their chances in the World Cup. They won their first game, but they were still flat and unconvincing. A team of stars didn't seem to be gelling' and either the same would happen in this game, or they would spark to life and show us what they're made of.
And boy, did the latter happen. They showed up to the tournament and introduced themselves as a force to be reckoned with.
Lukaku and Hazard both netted two, and Batshuyi came off the bench to claim their fifth. Tunisia got two back, yes, but it made little difference – and I can see Belgium being a truly tough test for England come Thursday.
South Korea Vs Mexico was a game where we all expected Mexico to win, especially after their stunning performance against Germany in their opener. This was, however, going to be a very different game for them, which would require different tactics, with South Korea likely to set up more defensively.
As it was, VAR confirmed a penalty to Mexico in the 25th minute for handball. It looked harsh to me, but there was no complaint from the player and no complaint from VAR, so I guess I have to conceive that the arm must have been in an unnatural position. Carlos Vela put it away.
Hernandez scored his 50th goal for Mexico in the second half, and even though Son got one back for South Korea in stoppage time, it was never going to be enough. Mexico look good.
Germany played Sweden in a game I was made to watch whilst looking past the heads of these friends who were encouraging me to be 'sociable.' Despite the three-dimensional people distracting me, I still managed to watch this stunner pretty closely.
Sweden opened the scoring, and I could see the grey hairs growing in the German manager's hair by the minute. Then Germany equalise.
Now, there's another VAR issue – as in, it's not used, for what should have been an obvious penalty to Sweden. I can't understand how the referee wasn't even encouraged to look at it. This would have changed the game completely.
As it was, a second yellow for Boateng sees the second red of the tournament, yet Germany still pile the pressure on. A stunning curler from the side of the box from a free kick proves to be the winner.
Tomorrow's the big day. A win against Panama will see England qualify. We see this game as a routine win, but when we know the opposition is likely to set up to defend for the entire game, it will never be that easy.
For me, the main focus is on trying to get sleep tonight. I'm so excited, I'm like a kid on Christmas. I imagine my blog tomorrow will be done under far more tiring conditions.
I just hope I'm reporting on a convincing win!
Meanwhile, I'm off to force football talk on my girlfriend who couldn't care less.
I've promised her a holiday if she puts up with it, so she's doing her best.
COME ON ENGLAND!