John Terry had been stripped of the captaincy by the FA following a recent controversy. Fabio Capello, feeling he had been undermined, quits.
Wayne Rooney will have to serve a suspension for the first two games of the tournament. The question rages on – should England take him?
Roy Hodgson takes over as Enlgand manager, entering the tournament a month after being in charge. The FA say his job security will not be basedon this tournament.
For the first time, England enter a tournament with little expectation. Without the pressure, how would they perform?
Do You Remember?
The opening game saw two red cards. One for Greece before half time, the second for Poland's keeper Sczezny, then of Arsenal, for denying an obvious goalscoring opportunity.
Pepe scores his third international goal for Portugal, but remains a dick.
Nicolas Bendtner scores for Denmark on his 50th cap.
Netherlands lose every match and go out of the group stage.
European and World Champions, Spain, irritate everyone by playing without a recognised striker in their starting lineup.
Republic of Ireland are in their second ever Euros, the only other 24 years previous. Kevin Doyle and Stephen Ward, then of Wolves, started their opening game.
England Vs France
We haven't won against France in ten competitive fixtures. France haven't lost in twenty-one games.
But this is the first tournament where Joe Hart is in the net, and we finally have a reliable keeper between the sticks. With Rooney sidelined, who will step up for us?
Gerard gets a free kick. Crosses it into the box, Lescott jumps, heads it, and it's in. Joleon Lescott's first ever goal for England puts us ahead.
Hart shows his skills with a terrific instinct save to beat away a strong header. However, he can't keep the French out forever, as Samir Nasri powers a shot from outside the box into the bottom corner.
1-1
England Vs Sweden
Ibrahmovich captained the side who had lost to co-hosts Ukraine in their opening fixture. England play in navy against a team who haven't lost to England in seven competitive meetings.
Andy Carroll is brought in partner Danny Welbeck up front.
Scott Parker charges forward and has a good try from outside the box, but it's no good.
Gerard crosses the ball in, it meets Carroll's head, and it's in!
The Swedes have a shot. The English defence scramble it and Johnson thinks he's cleared it off the line, but his clearance hits the post and goes in.
Larson crosses from a free kick and it meets a Swede head. Hart doesn't move as the team in yellow go in front.
We're losing.
Terry's header brings a reflex save from the keeper. So close.
Corner. Carroll heads it back, Walcotts gets a clean strike, and it's the equaliser.
You can see Roy Hodgson going greyer by the minute.
Hart with a stunning fingertip save from an Ibrahimovich shot.
Walcott cross. Welbeck turns and scores with his back to goal.
It's a terrific performance. England come back to win.
3-2
England Vs Ukraine
Sweden are already out of the tournament, but still manage to beat France 2-0 in their final game. This means Ukraine had to win to go through.
Rooney replaces Carroll up front. Questions are asked – why, when Carroll got a goal and an assist in the last match?
Rooney scuffs a header Carroll would have nailed. I grow frustrated.
Then Gerard's cross goes all the way across the goal line and Rooney heads it in. He silences the critics and puts England ahead.
Ukraine shoot and Terry clears it. But did it cross the goal line? Instinct says no – but the replay says otherwise. It's in. Should have counted.
Milner crosses and Ashley Cole tries for his first goal in 87 caps, but it's saved.
1-0.
England top the group with two wins and a draw. This is the best performance we've managed in a while, finishing the table ahead of France – who would go into the knockout round to play the eventual winner, Spain.
England face Italy.
The other England team
Howard Webb officiated the first quarter final between Portugal and Czech Republic. Mark Clattenburg and Martin Atkinson were his fifth and sixth officials.
Assistant referee Darren Cann correctly rules out a Portugese goal for offside.
At least one English team are getting it right.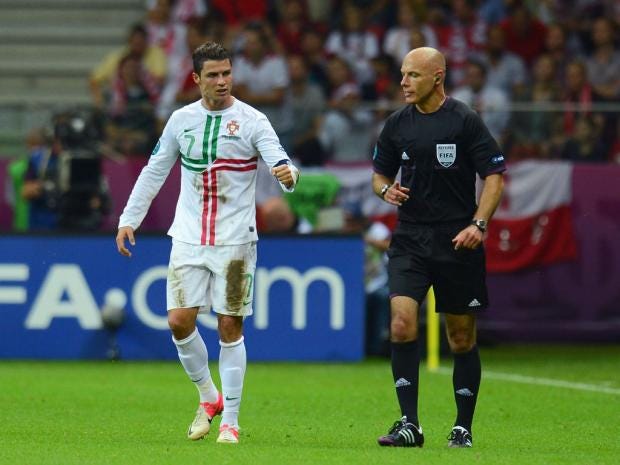 Germany beat Greece 4-2 in their quarter final.
Spain beat France, once again fielding a team without a recognised striker. Xabi Alonso gets two goals on his 100th cap.
England Vs Italy
Hodgson is still unbeaten since taking over in May.
Keeps the same tema as the last game.
Mario Balotelli, current Premier League champion with Manchester City, plays. He's a dick, this guy. Honestly, the last goal he scored in this tournament, he didn't celebrate, just stood their looking 'hard' – and his team mate rushed over and covered his mouth for some reason, as if making sure he didn't say something stupid. He may have been in great footballing form, but the guy's a thug.
Italy curl a shot toward goal and it hits the upright.
Milner to Johnson, five years away, straight at the keeper's beating hand.
Rooney diving head from a similar place, and somehow it's over.
Balotelli through, striaght into his Man City team mate's hands.
Second half.
Hart saves another Balotelli shot. Johnson blocks a certain goal. Rooney tries an overhead kick that goes over the crossbar.
It's extra time.
England hold on for thirty minutes through a barrage of Italy attacks.
Italy get the ball in the net, but the headed shot is correctly ruled out for offside.
Penalties.
Balotelli scores, despite Hart going the right way.
Gerard scores.
Italy miss. Advantage to the men in white.
Rooney scores. Pirlo scores.
Ashley Young hits the crossbar.
Torino scores.
Ashley Cole on his 98th appearance. It's saved. Piamontay sends Italy through.
It's disappointing, but as a performance, it's the best England have shown in at least ten years. Maybe the Hodgson reign will prove promising after all.
In the end…
Portugal face their local ribvals Spain, who have never lost a tournament semi-final. Negredo makes a first appearance of the tournament for Spain up front.
It goes to penalties, and Xabi Alonso's shot is saved, but so too is the first Portugese shot.
2, 3, & 4 are scored.
Bruno Alves hits the crossbar. Fabregas puts Spain through.
Italy face Germany. Pirlo has been on fire for Italy this tournament.
Balotelli heads in a cross for his second goal of the game. He takes off his top and stands there like a twat. Honestly, this guy.
Germany get a penalty lifeline but it's not enough, they bow out at 2-1.
Spain beat Italy 4-0 in the final, becoming the first team to win three consecutive tournament trophies.