England as potential winners – realistic? Optimisic? Or delusional?
We failed to qualify for Euro 2008.
I remember sitting in the living room during my second year of uni, crushed. Everyone in silence following the final whistle. No one daring to talk. We can't believe it.
Then suddenly, two years later, everyone is saying we are going to win the World Cup.
Sure, we had a 9/10 win record in qualifying, but progress isn't going to be that rapid.
Capello seemed just what we needed. Authorative, and not everyone to say when England are not good enough. Then at the World Cup he brought Heskey on when we were chasing the game. It looked like he was losing it.
Capello had a face like a muppet – which was fitting I guess, as even the characters on Sesame Street could rival his grasp on the English language.
Beckham reaches 109 caps in qualifying, beating Bobby Moore's record for an outfield player. But he is 'injured' for World Cup – though I suspect Capello wasn't going to pick him, and this was perhaps to save some pride. He was, at least, on the bench as a member of the coaching staff. And he is a beautiful, beautiful man.
Rooney earned his 50th cap during qualifying against Ukraine – at only 23 years old. Yet, he was already going bald.
Robert Green makes his competitive debut against Kazakhstan. With David James now at 39 years old, Green's chances of playing in the World Cup looked good. Unfortunately, the only thing anyone ever thinks about when you say Kazakhstan is Borat.
Capello is known in Italy as the Iron Sergeant. We had to beat Croatia to qualify, just as we had two years ago – and we won 5-1. Croatia's manager, Bilic, now West Ham manager, claimed that Capello had made England less English. (I bet a penalty shootout would have proven just how English we are!)
Bilic finished the game, however, saying England will win the World Cup.
Do you remember?
Vuvuzelas were a constant murmer in every match. They were subsequently banned from Premier League grounds the next season.
There were complaints about how round the ball was. This pretty much defined the saying "a bad workman always blames his tools." When we lost however, I also blamed the tools – but by tools, I actually mean Rooney and Green.
2006's runner's up, France, were knocked out following three defeats and scoring only one goal, caused by a player's revolt.
Diego Maradona managed Argentina.
Greece, European champions of 2004, score their first ever World Cup goal against Nigeria.
There was such a buzz for this tournament. It was the first where I watched every single game – and have continued to do so since.
There truly is nothing quite like the World Cup.
England Vs USA
Group C. England don't yet feel the pressure.
Gerard is now a captain after a John Terry controversy. Though I can't remember which controversy – it was either when he said something racist to an opposition player, or when he shagged Wayne Bridge's wife. Either way, that boy is a right rapscallion!
7 of USA players do or have played in the Premier League. 2 of their strating lineup play in the MLS. Bob Brady is their coach.
Heskey pokes the ball thrugh to Gerarrd, who shoots to the keeper's left, and it's in! Our tournament looks so good, so promising.
Then of course, Clint Dempsey has a shot where a simple hold by Green is required. Green drops it. We concede.
Watching the highlights back, it's easy to see – that was the moment where it all went wrong.
There was such a spring in England's step, a huge belief in the way they played up until that point. Green does come out to speak to the press after, and fair play to him for doing so – but he doesn't feature again in the England team in that tournament. That game is, to date, Robert Green's last in an England shirt. He now turns out for Leeds, who are chasing a playoff place in the Championship.
If only that hadn't have happened. That optimism, freedom and creativity we played with had shown so much potential.
We drew our first game in 1966.
USA's press, however, report this draw as a win. Hmm.
1-1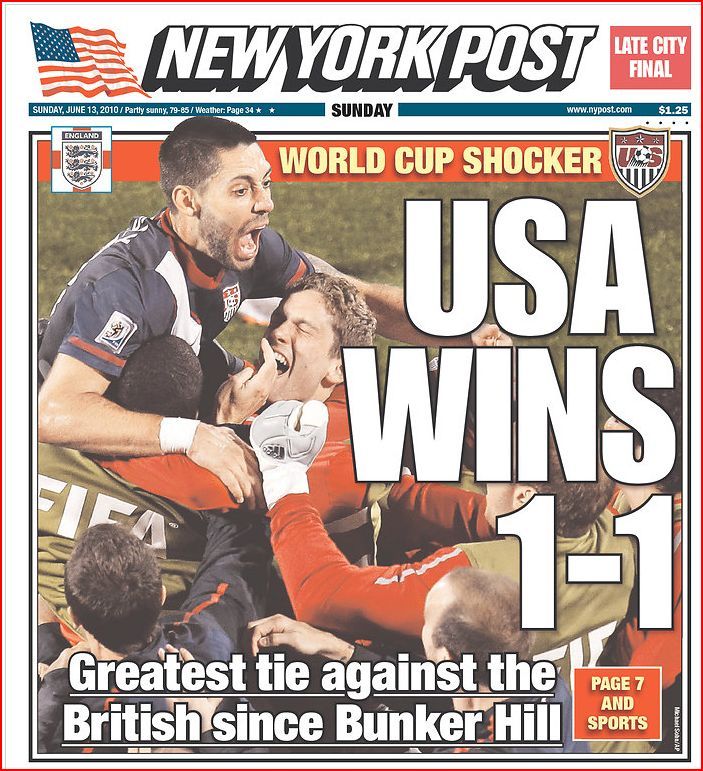 England Vs Algeria
David James starts in goal.
Rooney slips and gifts ball back, avoids the red mist and wins it back. Results in a Lampard shot.
Good pressure but nothing on the scoreboard.
Afterwards, the press ask Gerard "Steve, what was missing toinght?"
His reply – "goals."
After such beleif in Capello, the press now turns to question his dictatorship style of management, that he is too disconnected from the players.
0-0
England Vs Slovenia
We have to win to stay in.
Capello has to win to keep his job.
We play in red.
35 metres from goal, Lampard has a shot, but it's held.
Rooney paces forward on the soft surface, squares it to Lampard, but it's too much.
Rooney has a shot deflected for corner. Gareth Barry takes, flicked across by Terry, but it's wide.
We start to worry.
Milner cross, into Defoe, jumps, volleys – goal!
We still have the second half to see through. Rooney is denied by the fingertips of the keeper and Upson makes a crucial tackle. We're through!
After the final whistle, Capello ensures that he shakes every hand and pats every back. Is this a response to the criticism? Or is this genuine congratulations of his players?
Capello still maintains England can win the World Cup. He says he's finally found the team he knows.
And who do we have to play in the next round?
Guess.
Elsewhere…
Ghana are second in Group D after Germany – and becomes everyone's favourite underdog.
Champions Italy are knocked out at the group stage after losing 3-2 to Slovakia.
Kaka scores for Brazil and the whole world says… "is he still playing? Didn't know he was still playing."
Portugal beat Korea 7-0.
Spain lose their first game, but do go on to be eventual winners. They have a worse start than England, but don't fall to pieces.
Round of 16 England Vs Germany
It had to be, didn't it?
England in red.
James blocks Ozil's shot – Ozil, then of Real Madrid, now for Arsenal.
Germany's keeper gets an assist, pumping it up to Klose, who puts it through the middle of a goal. Honestly, it was poor defending. It was the kind of goal every Sunday morning team scores.
Barry gets a shot on target, but it's easy for keeper.
Rooney runs at Mertesacker, crosses, but it's too deep.
Defoe heads it onto the bar, but it's offside. Replays show the assistant referee got it wrong. And that isn't the final time that official costs us…
Muller through to Podolski, hits it from an angle into the opposite corner, through James' legs. We are 2 down.
Gerrard crosses, onto Upson's head, and it's in! We have a lifeline. Upson' scores his second international goal, both of them against Germany, to give us a lifeline.
Then it's the moment I can still see so clearly imprinted on my mind. Rooney fouled, it's a free kick. Lampard shoots, it hits the crossbar and clearly crosses the line as it rebounds off the floor and back out again.
Lampard is celebrating. Everyone in the ground knows it's in.
Everyone, that is, apart from the officials.
Because it's not given.
That would have been 2-2. That would have been crucial. But it's not given.
How could they not have seen that?
What if – just think, what if – the officials had made the correct decision. We wouldn't be pushing everyone forward to chase the game, and may not have been caught on the counter in the subsequent goals.
I still watch my DVD of this World Cup, expecting the officials to announce it's a goal. I expect things to change. If we'd have had that goal, imagine the belief that would have given us.
But the officials got the blatant decision wrong.
Rooney is fouled again. Free-kick. It rebounds of a German player, they counter quickly and, with all our players pushed forward chasing the game, they score. And there same happens from a throw-in again later.
4-1.
It still hurts.