It's the same old story, unfortunately.
The media are critical through the qualifying campaign, then we win our qualifying group comfortably, and suddenly everyone is saying England are going to win the World Cup – what with all the young players we have coming through.
There is particular excitement about Wayne Rooney – it turns out he will define England's tournament. But for all the wrong reasons.
England Vs Paraguay
Beckham freekick, passes everyone in the area, off a Paraguay head, and into the goal.
Simple, right?
England Vs Trinidad & Tabago
England's second game in Group B is against the World Cup debutants.
Beckham kicks it in to Crouch, who heads it to Downing, then into the goal. Beckham hugs Stuart Downing – who nowadays plays his football for Middlesborough.
Again, we see how crucial Beckham is to this team. Almost every goal England goal I've written about in the last few of these blogs about international tournaments of my lifetime – Beckham has been involved. Whether from a cross, or a free kick.
Still yet to see what Rooney has to offer.
Stoppage time, Steven Gerrard strikes it from his left foot and into goal.
2-0
England Vs Sweden
England play in red.
Joe Cole kicks the ball over the keeper's head, and we're one up.
Sweden corner off Allback's head, England try to get it off the line but fail. It's past our young keeper, Paul Robinson, and it's in for the equaliser.
Joe Cole chips, off Gerard's head, into goal.
Then a ball goes into our area, everyone misses it, and it comes of Henrik Larsson.
2-2
England finish group winners of Group B. A brilliant start to the tournament, full of promise.
Elsewhere…
Robin Van Persie and Lionel Messi score their first ever World Cup goals.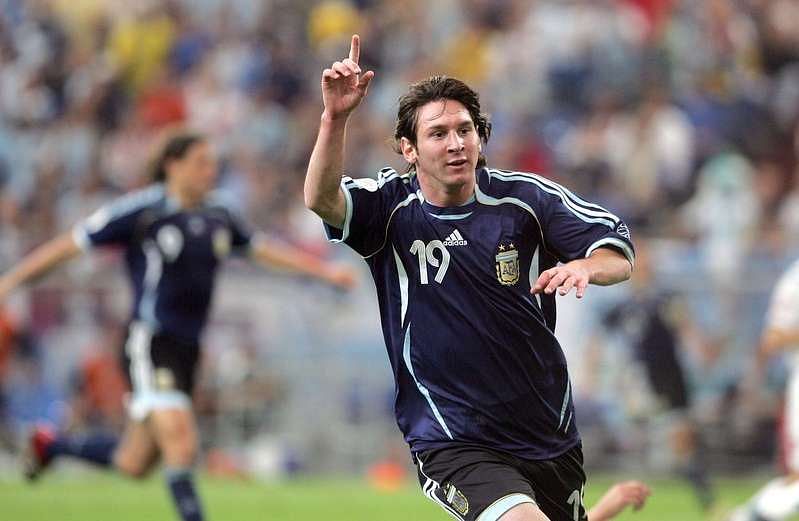 21 year old Cristiano Ronaldo scores a penalty against Iran, leaving Portugal with a 100% record in group matches.
Graham Poll, representing English referees, gives three yellow cards to one player before sending him off – creating probably the biggest blunder by a referee at an internationl tournament.
Kaka's Brazil cruise through.
Tim Cahill of Everton scores for USA.
And Spain begin the world dominance that will start with trophies in the next few tournaments with an opening 4-0 win against Ukraine.
The Swiss go through a penalty shootout without scoring a single penalty – and we thought England had it bad! They are the first team to be knocked out of a World Cup without conceding a goal.
Andf Ronaldo of Brazil gets the record for most goals scored in a World Cup.
Round of 16 England Vs Ecuador
England are overwhelming favourites and, for once, see their dominance through.
Beckham scores a free kick.
1-0
A really shocking statistic for you know:
This is the last knockout game England have won to date.
Quarter Final England Vs Portgual
In 1998 it was Beckham. Beckham was villified, but has since grown into a brilliant player and leader.
In 2006 it was Wayne Rooney.
Though I've never quite figured out why Rooney wasn't villified in the same way Beckham was. People had burning effigies of Beckham in the streets six years previous, but not for Rooney.
Both of these players went on to overcome their stupid decisions and become England captains.
Rooney is sent off, after his Man Utd teammate Cristiano Ronaldo encourages the ref to produce the red. Ronaldo winks at Rooney as Rooney trudges off.
I remember a more recent interview by James Corden with Wayne Rooney, where Rooney admits that, at this point, he went to the changing room and ate a pot noodle. I can just imagine him watching the rest of the game, with stringy bits of noodle hanging from his mouth.
The game goes to penalties.
Jamie Carragher steps up, stutters in his run up, and it is saved – off the keeper and against the crossbar.
Cristiano Ronaldo kisses the football, places it down, and hits it to the left. The man who was instrumental in encouraging the referee to send off his club teammate sends his country through.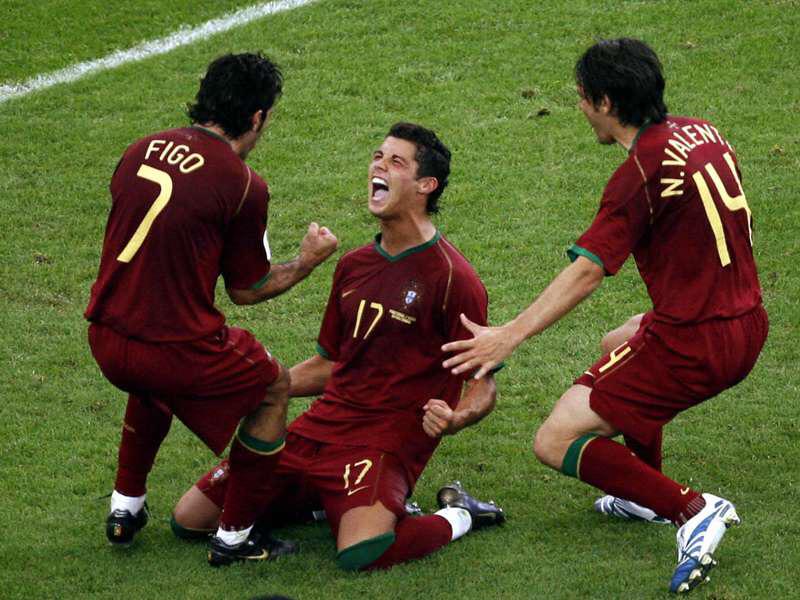 Say whatever you want about Ronaldo as a player – as a man, he is a dick.
And finally…
France beat Brazil with a Thierry Henry goal.
Semi-Final 1: Germany lose 2-0 to Italy in extra time
Semi-Final 2: France beat Portugal with a penalty.
Final: Italy are equal with France, 1-1 at full time in Berlin.
Then there's that famous moment in extra-time where Zidane caps his final game with a red card, produce over a minute after the incident where he headbutts a player.
Italy win 5-3 on penalties.